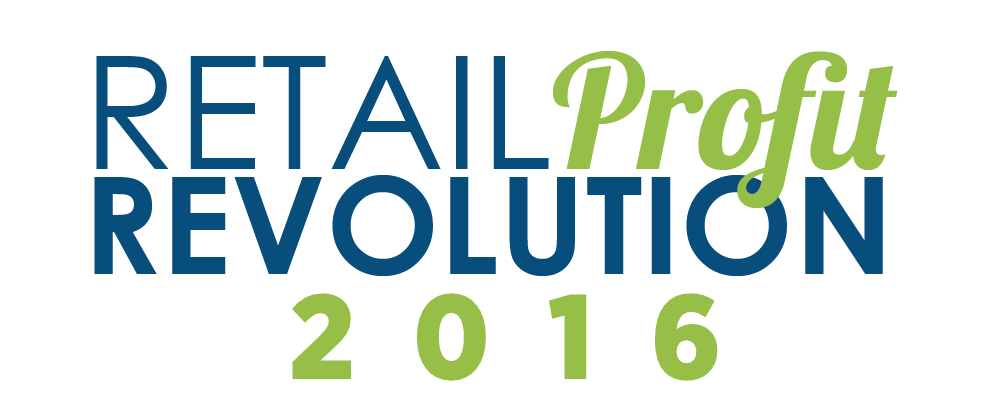 ARE YOU LOOKING TO TAKE HOME
A BIGGER PAYCHECK FROM YOUR STORE?
WOULD YOU LIKE YOUR CASH FLOW TO BE LIKE A FAST-MOVING RIVER?
I have the perfect place for you. You absolutely must attend our groundbreaking event, The Retail Profit Revolution, September 19-21, 2016.
When you opened your store you had a dream of sharing your passion with lots of people. You didn't realize the other side of your dream is 'business'. Understanding financials, paying taxes, deciding how much to buy, keeping your team happy, juggling bills, managing cash flow… Let's face it, your dream is work.
Here at RETAILMavens, we've learned there is an art and a science to retail. You have the art, and we have the science down cold. The good news: you can learn it! But only here. No one else is talking about this. No one else is teaching you to revolt against the status quo and go from "doing fine" to living that dream you had in the beginning – the one where passion meets paycheck.
THE OLD WAY OF DOING INDIE RETAIL IS OVER. ARE YOU READY FOR THE REVOLUTION?
This isn't a Retail 101 course rehashing the obvious. Retail has changed. If you are doing things the same way you did even 2 years ago, you are falling behind. This is a true Revolution. It's the new way of Retail. You will learn the exact tactics for every aspect of your store that will increase the cash in your bank account.

You'll learn the science to create raving fans who can't wait to shop with you, while your inventory, cash flow, and profitability are off the charts.
We will teach you everything you need to know about how to leverage what you really offer – your unique voice, vision, and personality – with the most cutting edge science on managing everything from your inventory to your marketing.
YOU KNOW IT'S NOT WORKING,
BUT YOU DON'T KNOW HOW TO FIX IT.
Sound familiar?
You've gone to plenty of events and seminars, and you've gotten good information, but you haven't gotten what you really need.
You've gotten content dumped in your lap, burying you under your new to-do list.
You've gotten lots of ideas, but no practical guide on how or when you should implement…so those ideas never happen.
You've heard from people selling you "easy," but not being honest – results are never overnight, and anyone telling you differently just wants what's in your bank account, not for you to grow your bank account.
The truth is, people can get anything you sell online with a click of a button and free 2-day shipping. The reason people come to stores IS YOU.
We'll tell you EXACTLY how to create your revolution – while you're with us. You won't leave with a new to-do list, you'll leave equipped to implement as soon as you walk in your store.
WE GUARANTEE, THE PERSON WHO SHOWS UP HOLDING YOUR TICKET WILL NOT BE THE SAME PERSON
WHO LEAVES READY TO START A RETAIL PROFIT REVOLUTION IN YOUR STORE!
The RETAIL Maven, herself.
Cathy Donovan Wagner, The RETAIL Maven, opened her first store over 25 years ago and quickly grew it to 3 stores in Chicago grossing more than 2 million dollars. She realized her calling was to help other indie retailers achieve the kind of success she had without the painful learning curve she experienced.
She sold her stores and took her message to indies ready to move beyond flying by the seat of their pants and into full control of their destination. Cathy is now a national retail speaker and has appeared in the Wall Street Journal, New York Times, Women's Wear Daily, and Money Magazine just to name a few.
Cathy knows what it takes to make a successful, profitable store, and in the last 6 years her private clients have all seen MORE cash with each successive year. In fact, last year they averaged a 16/1% increase with a 10% decrease in inventory.
And now, she's bringing the Retail Profit Revolution to you…
YOUR PROFITABLE RETAIL STORE IS A REVOLUTIONARY ACT
IT'S NOT EASY. IT'S NOT AUTOMATIC. IT'S NOT FOR EVERYONE.
The Retail Profit Revolution is for indie retailers who are:
Creating a movement, not just selling a product
Leaving a lasting impact on their communities and the people they serve
Building a legacy for both their families and their communities
Cathy Donovan Wagner is unlike any other retail educator you've ever seen live. She's dynamic, entertaining, and she has a knack for giving you exactly what you need to make a real difference in your store – instead of telling you everything she knows, but none of how to use it.
The retail climate has changed dramatically in the last five years. Doing what you always did will close your doors. That's why Cathy has gathered a stunning lineup of innovative thinkers, excellent teachers, and her own brand of tell-it-like-it-is retail magic.
Nothing short of a REVOLUTION will give you the kind of store and the kind of LIFE you deserve.

As a RETAILMavens Client, you know what the right information at the right time can do for your store.
Reserve your seat TODAY by claiming your FREE ticket – courtesy of RETAILMavens.

Cotton Patch Quilt Shop
Cathy, you are my hero!
I promise to do every promotion just like you say! We did BOGO 70% off all day, as many deals as they wanted, and we were rock stars and grouped like amounts together.
Our sales were double what they were last year on Black Friday!
We were busy all day long and people were really happy! Retail is fun when there are lots of happy customers and the cash register is ringing!
- Laura Flynn
Mimosa Rose
God and The Profit Club have belssed Mimosa Rose tremendously over the past few months!
We were voted Katy's BEST Women's Boutique, and in June we did 19% more sales with 67% less inventory!
We took less than a fourth of the markdowns this year vs. last year, and we were just asked to be the featured retailer in an upcoming issue of GiftBeat Magazine!
- Jennifer Harris Marker
Willow Gift & Home
I am singing [your] praises tonight! One week ago, I checked and we had already met overall goals for the month, but we were low in our clothing sales. So, I decided to have a "First CLass Clothing Sale" this week and promoted the graduation outfit idea. The clothes were buy one get one half off and my girls totally ran with it! Last week we were still over $1000 under our sales goal for clothes and today we finished at just $12 under the clothing goal!!
Overall, we blasted the total goal by more than $5K!
It really pays to watch those numbers and react to them! Now I must conquer my overspending on my open to buy budget and I'll have this number thang down! Not bad for an art major. I am so proud of my team!
- Heather Wilson Green
Pine Needles Quilt & Sew
For me, it was about getting my batteries recharged and then some! I have been a client for 3 years. When I first saw the schedule I knew it be review, but I was surprised at how much I really learned. It was wonderful. You know the more you go over it, the more you gain. I now understand how much I must understand my numbers.
And it was inspiring to network with other stores that were serious about their business - you don't run into those kind of stores at trade shows. From my time at the Retail Profit Revolution, I gained a lot of new insights and enthusiasm to finish out the year.
I got home and said, "I am really going to do this." and I did!!! I ended UP double digits for the 4 th quarter with MUCH less inventory and the same amount of markdowns as last year!!!
- Marcia Nagel
Yarnorama
I actually was a little concerned when I went [to RPR] because I had made it through the Profit Breakthrough Program and thought maybe it was going to be redundant. What I got from it the most was sharing the information face-to-face and being able to ask questions in a different way. Hearing other people's questions face-to-face, sitting at a table where we were able to informally talk and discuss some of these things that you might not on a phone call, was super helpful. I think it helped me put things in perspective, that I was kind of stuck, in particular, on why I needed to reduce my inventory levels so much. I really didn't get it. Everybody was really helpful in a very non-judgmental way and helped me with that, which I super appreciated. I came back with action plans that I loved and were eager to use. I have been thinking this year, do I go again because this will be my second time through, and just this morning, my husband and I were talking about it and we decided yes, absolutely. The networking, the learning, the reinforcing the facts, I'm sure it happens to everybody…. You go through it, and you learn something, and you think you get it, and then you go back through it again, and you get to the next level of detail, and it's like, where did that come from? I didn't even see that the last time. So each time you gain more, at least I do, and so it's a huge benefit.
- Susan
JOIN US & FEEL PAMPERED, RELAXED, AND ABLE TO
TRULY STRATEGIZE ABOUT YOUR STORE.
San Diego's Breathtaking Rancho Bernardo Inn
The Retail Profit Revolution
Staying in the host hotel makes it easier to get to the meeting each day on time and network with your fellow attendees. September will be here before you know it, so take time now to book your rooms and enjoy special group discounts. Discounted rooms are available for our event at the group rate of $179.00 per night single or double (based on availability). Great news! The hotel agreed to extend the discount for about another week, but as we don't have a specific date, it's best to get your reservations in right now to ensure you get this amazing price! As an added bonus, this rate includes guest room Internet ($10.95 value) and self-parking ($16.00 value), with no resort fee. The hotel is also offering a 10% discount on spa treatments, so you can arrive early or stay late to pamper yourself before or after the event! To secure your room, please call the hotel directly at 800-542-6096 and reserve your room now. To receive your discounted rate, please request the RETAILMavens group block. Should you wish to extend your stay, rooms are also offered 3 days prior to the event and 3 days after at the group rate (based on availability). We recommend booking your flight to arrive at least the day or evening prior so you can be well-rested and ready for the event. You can also preview the hotel and make reservations on the web, simply click on the link below. Click Here to book the Rancho Bernardo Inn
Airport and Transportation
The resort is centrally located in San Diego North, 30 minutes from San Diego International Airport (Lindbergh Field).
September is in the midst of San Diego's best weather. Warm, very little rain, clear days, and little fog. Be sure to bring layers of clothing, as the session room temperatures can vary.

Once you register, you'll be able to claim your free companion ticket. These free tickets are easy to claim. Simply pay a $197 refundable deposit to reserve the seat. When you register at the event, my team will hand over your badge and a check for the full $197 on the spot. It's that easy!
WE CAN'T WAIT TO SEE YOU IN SAN DIEGO!
Once you register, you'll be able to claim your free companion ticket.
Three days of store-changing, profit-building, strategizing.
ZERO pie-in-the-sky theories that don't relate to the nitty gritty of owning your own store.
NO time-consuming ideas that assume you have a staff of thousands and an unlimited budget.


Keep your eye on the ball and the shoppers in your store.
Diminish distractions: how to keep you raving fans focused on your store when they're distracted by the election, the Big Box meltdown, and the internet.
The SINGLE most important thing you MUST do each week – it's your magic wand to "abracadabra" customers through your doors.
How to leverage your marketing dollars and time to reach the RIGHT customers – always know how much to spend, what to say, and why you're not "Advertising" (trust me, it's better left back in Don Draper's era…)
An indie retail marketing bonanza – learn to read your customer's mind and leave with a huge compendium of ideas, events, and strategies to make sure you are permanently Unstuck when it comes to creating new raving fans.
What to do when it isn't going well – how to pivot instead of stopping in your tracks. Leave Emotional Business Management in the dust for good as you create a sustainable TRANSFORMATIONAL store instead of a transactional store.


Learn the math that makes you money. (And how to teach it to your team!)
I'll share the profit benchmarks of indie specialty stores – this isn't available ANYWHERE, and it's critical to understanding where you fit now, and how you can blow the averages out of the water.
The formula for converting more inventory into more cash – just like any good math problem, there is a right answer, and I'll show you.
How to build a TEAM of Retail Rockstars who love to sell. Clone yourself and delegate the drudge work so you can focus on building your business.
I'll share a simple strategy you can implement right now that will guarantee a 15% increase in your sales. Yes. Guaranteed.
Plus, a breakthrough bootcamp on maximizing profit as the extra revenue starts rushing in.

Start acting like the CEO
Learn the truth of your most valuable possession, and how to keep from running it into the ground (no, it's not YOU, but I'll teach you how to stop running yourself into the ground, too!).
Productivity is the action of creating riches. I'll show you how to put your productivity on overdrive while actually ELIMINATING many of your current daily tasks, rather than adding more on.
Ignore your goals, quit wasting everyone's time, and step into your role as leader. You CAN lead your team to huge success, but first you have to know where to put your focus and where to LET IT GO.
WE GUARANTEE, THE PERSON WHO SHOWS UP HOLDING YOUR TICKET WILL NOT BE THE SAME PERSON WHO LEAVES READY TO START A RETAIL PROFIT REVOLUTION IN YOUR STORE!
No refund for non-participation.  All payments are non-refundable.  You may transfer it to a future purchase.
HAVE QUESTIONS? WE LOVE TO ANSWER THEM!
How can we help? Reach out, and we will answer any questions you may have on The Retail Profit Revolution, registration, sponsorship, travel, or RETAILMavens!
For all inquiries, email us at clientcare@retailmavens.com